Embroidered and gilded ladies chair, nineteenth century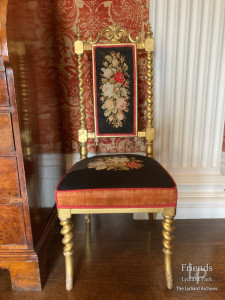 Hidden Content, Images, Videos and Documents
This small gilded ladies chair is original to Lydiard House. The embroidery was done by Marie St.John Mildmay, 4th Viscountess Bolingbroke.
Lady Bolingbroke was an accomplished needlewoman. Another chair with her handy work also survives, along with a large embroidered panel.
Maria's husband, Henry St.John, also had a creative streak. He made a meticulous copy of the St.John family polyptych in St. Mary's Church, a section of which is on display in the Dining Room at Lydiard House.
Year:

1810-1836
Creator:

Marie St.John Mildmay, 4th Viscountess Bolingbroke (1790-1836)
Type:

Furniture
Location:

State Bedroom, Lydiard House
Owner:

Swindon Borough Council
Copyright:

Friends of Lydiard Park
Credit:

Friends of Lydiard Park
Last updated on:

Thursday 16th September 2021